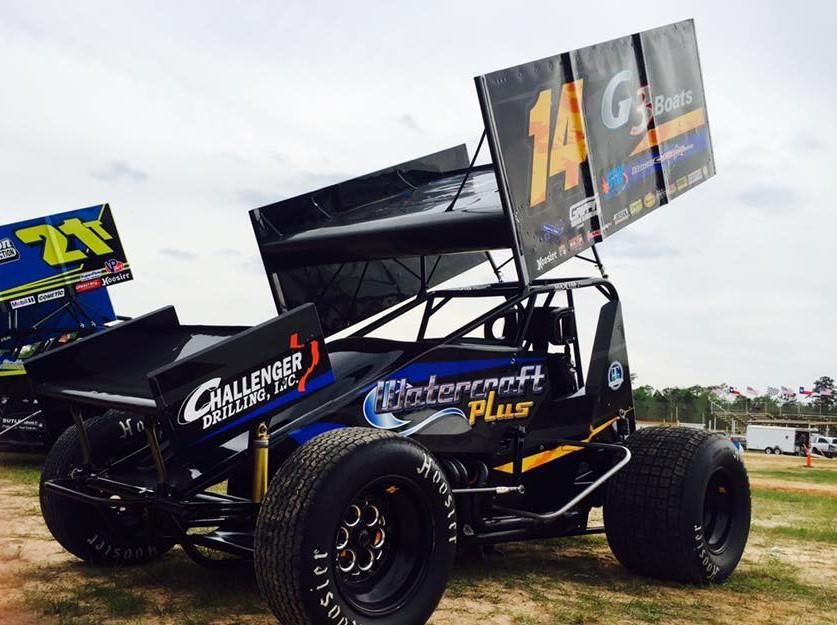 5/24/2016
Inside Line Promotions
---
Tankersley Takes ASCS Gulf South Points Lead into Texas Tripleheader
Inside Line Promotions – HIGHLANDS, Texas (May 24, 2016) – Channin Tankersley is looking to accomplish a couple of feats this weekend as he tackles an ASCS Gulf South Region tripleheader.
Tankersley, who won the last two ASCS Gulf South Region races to take the lead in the championship standings, enters this weekend looking for three straight feature wins for the first time in his career. He's also hoping to head to the Winner's Circle at each track for the first time.
"We want to go out there and be consistent and to finish races," he said. "Our goal is to win each night, but we have long-term goals that require finishing races."
The action begins on Friday at RPM Speedway in Crandall, Texas, before Devil's Bowl Speedway in Mesquite, Texas, hosts a show on Saturday. Lone Star Speedway in Kilgore, Texas, is the site of the final race on Sunday.
"Our confidence level is at an all-time high," he said. "Our results are starting to speak for themselves."
Tankersley doesn't have much experience at RPM Speedway.
"I went to RPM a long, long time ago," he said. "From what I can remember it's slick and small. But I've heard they've done a lot of work to it."
However, he has earned a seventh-place result during each of the past three seasons at Devil's Bowl Speedway.
"We've had a lot of good runs there and we've been pretty solid there," he said. "We need to find a little more speed."
Tankersley has been in contention to win at Lone Star Speedway, but hasn't been able to seal the deal.
"Lone Star is one of my favorite tracks around so I'm looking forward to it," he said. "I seem to go pretty decent there. It races pretty good for me. I was racing for the lead there a couple of years ago when I got into a wreck so we know we can run up front."
SEASON STATS –
10 races, 2 wins, 4 top fives, 5 top 10s, 8 top 15s, 9 top 20s
UP NEXT –
Friday at RPM Speedway in Crandall, Texas; Saturday at Devil's Bowl Speedway in Mesquite, Texas; and Sunday at Lone Star Speedway in Kilgore, Texas, with the ASCS Gulf South Region
MEDIA LINKS –
Facebook: https://www.facebook.com/ChanninTankersley
Twitter: https://twitter.com/TankRacing
APPAREL –
Tankersley has t-shirts ranging from youth medium to XXL for sale at his race trailer.
SPONSOR SPOTLIGHT – G3 Boats
G3 Boats is a Yamaha-owned boat company that manufactures more than 100 models of aluminum fishing boats and pontoons at its location in Lebanon, Mo. For more information, visit http://www.G3Boats.com.
"G3 Boats are the best aluminum boats out there," Tankersley said. "I had my eye on buying one long before they became a partner of mine."
Tankersley would also like to thank Watercraft Plus, LLC, Challenger Drilling, Yamaha, Day Motorsports, Blazer Boats and Sea Chaser Boats for their continued support.
INSIDE LINE PROMOTIONS –
Inside Line Promotions specializes in affordable public relations and media management for motor sports drivers, teams, sponsors, tracks, series, events, organizations and manufacturers. ILP Founder Shawn Miller leverages professional journalism with new media technologies and social networking to improve your exposure and the return on investment for your sponsors.
To meet the media relations needs of your program by joining Team ILP, contact Shawn at 541-510-3663 or Shawn@InsideLinePromotions.com. For more information on Inside Line Promotions, visit http://www.InsideLinePromotions.com.
---
Article Credit: Inside Line Promotions
Submitted By: Shawn Miller
Back to News