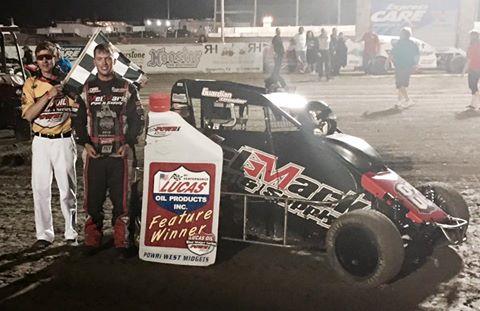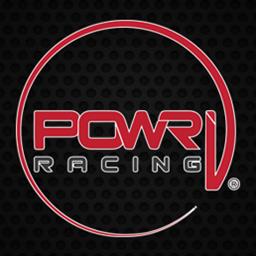 ---
Shebester Shines At RPM Speedway
Crandall, TX | June 24, 2016; A debut that has been long awaited for the Lucas Oil POWRi West Midget Series at RPM Speedway proved to be better than expected. 17 cars signed in for competition at the fast 1/4 mile speedway, and proceeded to put on an excellent show for the massive crowd in attendance.
Two action packed heat races would be won by Steven Shebester and Grady Chandler, with the Integrity Customs High point award going to Shebester. At intermission a fan was chosen from the stands to roll the dice, and with a fist bump of good luck the dice would land on a 4 inverting the nights top 4 in passing points.
2015 points champion and rookie of the year Anton Hernandez would start on the pole with Grady Chandler along side. The drop of the green flag would see Chandler make a big move jumping out to the early lead. Steven Shebester, Hernandez, Andrew Deal, would closely battle behind the 72 of Chandler. Lap after lap the top three of Chandler, Shebester, and Hernandez would distance themselves from the field. Shebester and Chandler would duel for several laps before Shebester would finally get a run off turn four taking the lead from Chandler.
As Shebester began to catch lapped traffic the nights only caution would fly for Andrew Deal who had engine failure in turns 3 and 4 with 21 laps completed. With 4 to go on the restart Shebester would set sail to victory. Grady Chandler would finish 2nd and with a monster move Ryan Hall would cross the stripe in 3rd.
A Feature Results
82M Steven Shebester 2) 72Grady Chandler 3) 2 Ryan Hall 4) 7M Kevin Ramey 5) 51 Anton Hernandez 6) 23 Hannah Adair 7) 69j Taylor Courtney 8) P40 Aaron Dromgoole 9) 8M Kade Morton 10) 19 Pierce Urbanosky 11) 01J Jeremy Hefler 12) 52 Andrew Deal 13) 10 Geo White 14) 6 DJ Estes 15) 4C Shane Sellers 16) 24 Hunter Fisher 17) 69 Bryan Debrick
Saldana Racing Products Heat 1: Steven Shebester
Day Motorsports Heat 2: Grady Chandler
Integrity Customs High Point: Steven Shebester
Race Bumper.com Hard Charger: Hannah Adair
Lucky 7 Mud-X : Taylor Courtney
Rod End Supply Hard luck: Hunter Fisher
Next up
Lawton Speedway Lawton, OK June 25, 2016
PR Contact
Ryan "Hoss" Merz
powri_west_media@hotmail.com
Back to News